Velký den je tady.
Konečně si můžeme přivézt domů štěně! To, co je pro nás důvodem k radosti, znamená pro malého pejska rozrušení a bolest z odloučení.
Zničehonic je odtržen od matky a sourozenců. Jeho vztahová osoba, chovatel, je rovněž pryč a prostředí, na které je zvyklý, je náhle vystřídáno řvoucí plechovou bednou na čtyřech kolech. Takový zážitek je pro malého psa šokem, s nímž se musí těžce vyrovnávat.
Cesta
Štěně by mělo dostat poslední krmení několik hodin před očekávanou jízdou autem. Plný žaludek zatěžuje organismus a může způsobit, že se štěněti z neobvyklých pohybů vozidla a z rozrušení udělá špatně. V takových případech často dochází ke zvracení.
Jelikož štěně může z nervozity udělat i loužičku, měli bychom pro jistotu rozprostřít na sedadlo auta přikrývku, kterou můžeme později vyprat, a připravit si roličku papírových kuchyňských utěrek. Pak můžeme pozůstatky štěněcího rozrušení snadno odstranit.
Rozhodně bychom štěně neměli kárat, pokud se mu něco takového stane. Tím bychom ho ještě více znejistili a rozrušili a ničemu bychom tím neprospěli
Cestování bez stresu
Pokud pro psíka jedeme ve dvou, může se jeden z nás ke štěněti posadit a uklidňovat ho. Láskyplné promluvy, jemné hlazení a nabízení zajímavých nových hraček mu mohou pomoci snáze překonat bolest z odloučení.
Při delších jízdách musíme dělat častější krátké přestávky, aby si štěně odpočinulo a nadýchalo se čerstvého vzduchu. Přitom mu můžeme dát také napít čerstvé vody. Kdo nechce být odkázán na prodejny u benzinových pump, měl by mít v autě připravenou láhev vody z vodovodu a misku na pití.
Konečně doma!
Po příjezdu domů bychom měli štěněti nejprve poskytnout možnost, aby se vyvenčilo. Pokud se mu to podaří na požadovaném místě, musíme ho vydatně pochválit. Jestliže se první pokus nezdaří, také se kvůli tomu svět nezboří... Později budeme mít ještě dost času, abychom to se štěnětem nacvičili.
Nyní potřebuje malý pes čas a klid, aby se seznámil se svým novým revírem. V každém případě bychom měli zabránit tomu, aby se hned první den začali na roztomilé zvíře vrhat známí a příbuzní a zahrnovali ho mazlením. Nové domácí zvířátko si musí nejprve zvyknout na své nové prostředí a zorientovat se v něm.
Zda podnikavé štěně začne hned zkoumat neznámé prostředí, nebo zda si nejdřív raději zdřímne, to záleží na jeho stavu a temperamentu. Pokud působí unaveným dojmem, ukážeme mu jeho pelíšek a opatrně ho do něj uložíme. Po veškerém rozruchu štěně možná ihned tvrdě usne.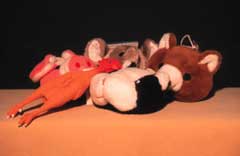 Budíky dělají zázraky
Citlivá štěňata někdy velice trpí ztrátou matky a ostatních sourozenců. Žalostné kňučení a srdcervoucí vytí signalizují smutek a velkou nejistotu. Novému majiteli v takových chvílích přebíhá mráz po zádech. Chtěl přece, aby se nový člen rodiny cítil dobře...
Budík schovaný pod polštář psího pelíšku může pomoci rychleji překonat bolest z odloučení. Tikání budíku připomíná štěněti bušení matčina srdce a dodává mu pocit tepla a bezpečí. Někteří psi se nechají uklidnit i pomocí plyšového zvířátka.
První noc bývá nejproblematičtější. I když jen těžko odoláme žalostnému kňučení osamělého psíka a nejraději bychom si ho vzali do postele a utěšovali ho, měli bychom si takový krok důkladně rozmyslet. Jakmile se štěněti jednou podaří proniknoute do vaší postele, bude si i v budoucnu nárokovat toto lákavé privilegium. Právě u velkých psích ras se může tento sporný návyk stát časem vážným problémem. Nebo si snad dokážete představit, že se budete krčit na úzkém proužku matrace, zatímco váš čtyřicetikilový psí obr si bude dělat pohodlí na zbylém prostoru postele?
Pokud nešťastné štěně nepřestává kňučet, můžeme si jeho pelíšek postavit k posteli a položit na něj ruku. Mnoho štěňat se pak uklidní a pokojně usne.
Na výzvědách
Když se štěně vyspalo, může se vydat na výzvědy: na nemotorných tlapkách se bude batolit bytem a zkoumat neznámý svět. Na prvních výpravách bychom měli štěně doprovázet, ukázat mu misky s krmením a s vodou a dávat pozor, aby nikde neudělalo loužičku.
Malí pejsci jsou nezkušení: okusují a žvýkají všechno, na co přijdou. K oblíbeným předmětům malých psů patří z neznámých důvodů zbrusu nové boty, drahé kožené pásky a cenné polštáře, a proto bychom je měli pro jistotu schovat mimo jejich dosah. Totéž platí pro křehké vázy nebo jiné předměty, které mohou snadno spadnout a rozbít se.
Nebezpečí
Z revíru štěněte bychom měli rovněž pro jistotu odstranit jedovaté rostliny. Štěňata ráda žvýkají zelené rostliny a polykají je, i když jejich chuť není nijak lákavá.
Nebezpečí představují i čisticí prostředky. Nezkušené štěně může vaše tablety do myčky na nádobí považovat za psí pamlsky nebo se napít čisticího prostředku. Důsledkem zvědavosti může být poleptání sliznic, prudké alergické reakce a životu nebezpečné otravy. Čisticí prostředky a léky je třeba vždy pečlivě zamykat!
Další problém, který může čerstvého majitele štěněte uvádět v zoufalství, jsou drobné předměty. Bohužel se často stává, že štěně drobný předmět polkne a musí být dopraveno na veterinární kliniku. Obzvlášť nebezpečné jsou jehly a špičaté předměty, které by se nikdy neměly volně povalovat po bytě.
Balkony a otevřená okna ve vyšších patrech někdy svádějí štěňata k odvážným experimentům. Neměli bychom riskovat a nikdy nesmíme nechávat nezkušené štěně bez dozoru v místech, odkud může spadnout.
Náš pes se zařizuje
I když jsme si dlouho lámali hlavu, kde by měl stát psí košík, a myslíme si, že jsme konečně našli to nejlepší místo, může se stát, že si o tom štěně bude myslet něco úplně jiného. Většinou si čtvernožec vybere své oblíbené místečko sám a snaží se co nejčastěji na něm odpočívat.
Psi rádi lehávají na místě, kde není průvan a odkud pohodlně přehlédnou větší část svého revíru. Tmavé rohy, kouty s průvanem a místa vzdálená veškerému dění jsou pro psa naprosto nepřitažlivá.
Pokud to jde nějak zařídit, měli bychom psí košík skutečně umístit tak, aby se v něm štěně od začátku cítilo dobře. Sice existují dekorativnější předměty než psí košík, ale majitel zvířete musí umět přistupovat na kompromisy...